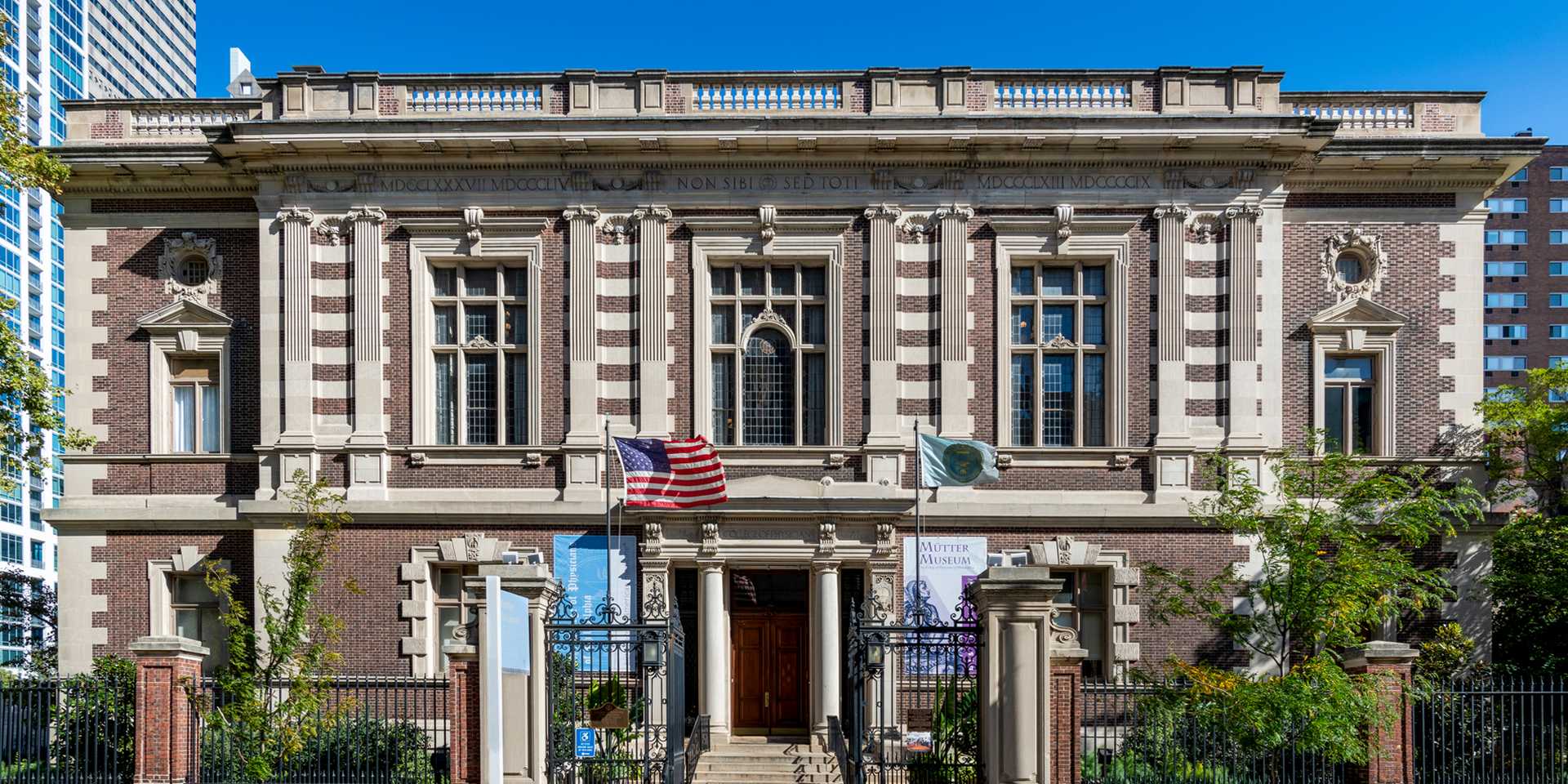 Welcome back to the Mütter!
We are so excited to welcome you to the Mütter Museum! Here are some things to note before your visit:
All tickets must be purchased online and in advance. Select your time based on your anticipated arrival. Once you arrive, there is no time limit for your visit.

Consistent with the newest guidelines from the City of Philadelphia, masks are no longer required, but strongly encouraged for the duration of your visit. We will monitor the situation closely and may adjust our protocols based on guidance from public health officials in the future.

Filming and photography are prohibited in museum galleries.

Strollers are not allowed in the museum galleries and must be left in the coatroom.
Frequently Asked Questions
For the time being, we will only be offering tickets online. You can purchase your tickets by clicking the button above! There will be a limited capacity of guests per hour and your selected ticket time is your anticipated arrival time. In order to limit overcrowding at the entrance, re-entry will not be allowed.

All members MUST reserve their tickets in advance online, too. Visit our membership page more information.

Please travel light as umbrellas and strollers are not allowed in the Museum galleries.

Please contact a member of the Visitor Services team at 215-399-2260 or 215-399-2261 to reschedule your visit.

The City of Philadelphia's Department of Public Health is lifting restrictions on indoor and outdoor events. You can find more information here or by contacting Elizabeth Savitz, (Venue Sales Director, Catering By Design) at elizabeth@cbdevents.com.

As per the City of Philadelphia, all visitors are required to wear masks regardless of vaccination status, except while eating or drinking at an invited and scheduled event.

The College continues to follow the safety recommendations from the Philadelphia Department of Public Health regarding mask requirements and social distancing guidelines. We continue to follow cleaning protocols established by the CDC.

We establish and review safety procedures through discussions with key staff and medical professionals and follow recommendations from federal, state, and city health officials to prioritize the health and safety of our visitors and staff.

In addition to limiting the number of guests and requiring tickets to be purchased in advance, Museum staff will be monitoring guest traffic to help promote social distancing. Hand sanitizer is available throughout the building.

However, there remains a risk of exposure to COVID-19 in any indoor public space.

If you are sick or have any COVID-19 symptoms, we ask that you stay home and we will accommodate you another day. If you do visit and show signs of illness (sneezing, coughing), you and any accompanying guests will be asked to visit another day.