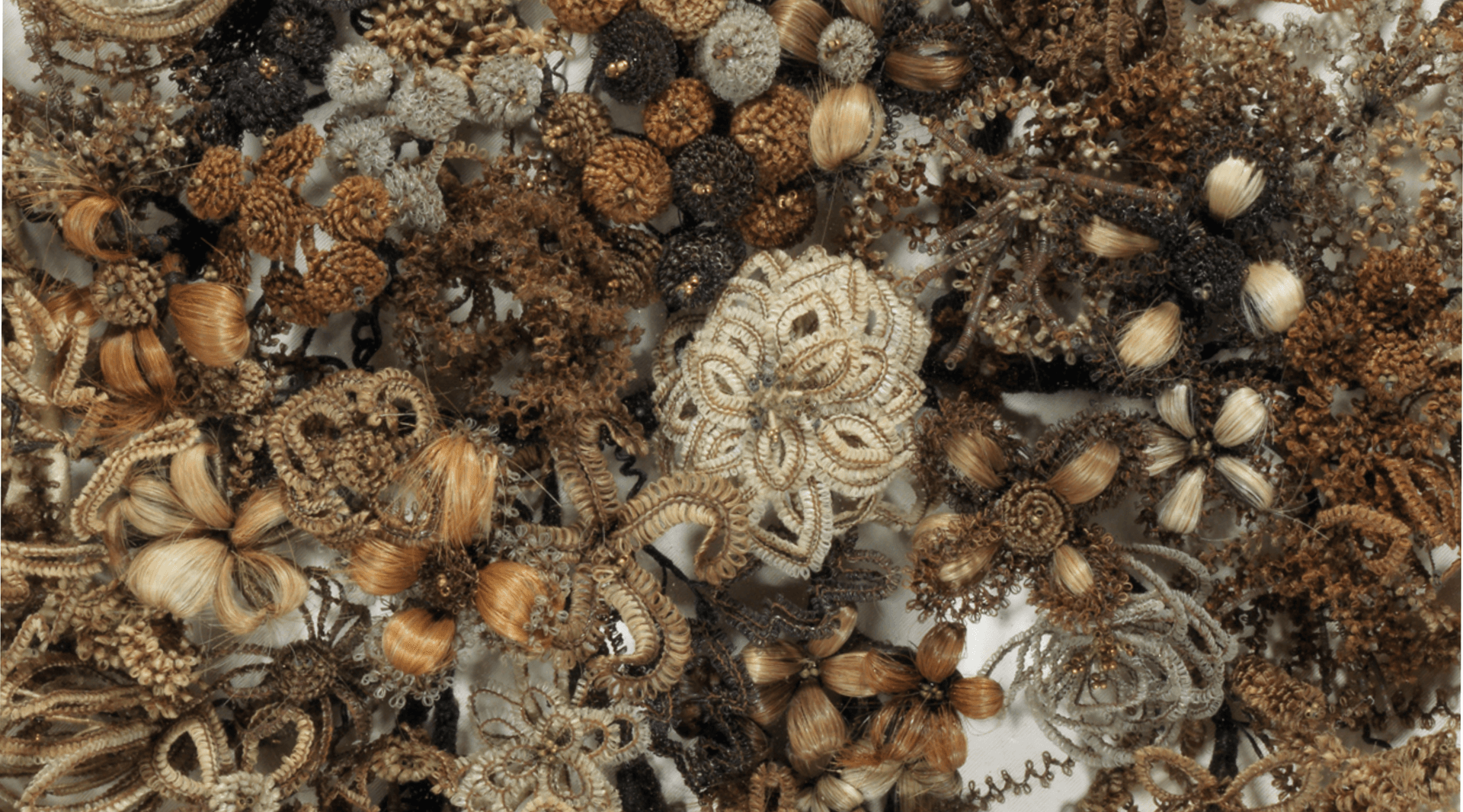 Special Exhibition
The Art of Human Hair Work at the Mütter Museum
The Mütter Museum of The College of Physicians of Philadelphia in conjunction with Morbid Anatomy presented this exhibition "rooted" in the 19th century. This domestic craft from over 100 years ago employs human hair as textile in four distinctive art and jewelry techniques; palette work, gimp work, table work, and dissolved human hair work. 
A favored folk art of the 18th and 19th century, hair art was a sentimental expression of grief and love, usually created by women whose identities have become anonymous over time. Human hair (from both living and deceased persons) was used to form flower bouquets, wreaths, braided jewelry chains, weeping willows, and painted scenes of mourning. Considered to be a form of portraiture, these were cherished tokens to preserve the memory of a deceased loved one, chart a vibrant family tree of the living, or to be traded as friendship keepsakes. It is rare to view such pieces publicly as they were created in domestic settings, for home display. 
From five private collections, the Mütter Museum along with John Whitenight and Evan Michelson assembled an exquisite group of hair art and jewelry as well as accompanying materials that discuss the social expectations of Victorian-era mourning rituals that ruled 19th century society with strict standards. 
Selected Pieces from the Exhibit
About the Co-Curators and Presenters
John Whitenight is a collector of 19th century decorative arts, with one of his areas of focus being objects created by hand and placed under glass domes. This interest has culminated in Whitenight writing the book, Under Glass: A Victorian Obsession, which includes a chapter devoted to the art of hair work. His collection of domes began in 1973 and numbers over 200 fascinating items, including those done in hair. Whitenight currently serves as the senior judge of the miniature settings class at the Philadelphia Flower Show and is a member of the American Art Advisory Committee at the Philadelphia Museum of Art.
Evan Michelson is an antiques dealer, collector, lecturer, writer and award-winning curator. She is the co-owner of Obscura Antiques and Oddities in New York City, the co-star of the hit television series "Oddities" (which ran for five seasons on the Science Channel), and was a founding board member of Brooklyn's Morbid Anatomy Museum. Michelson has had a lifelong interest in arcane and beautiful objects, with a focus on the history of science, medicine, mortality, and mourning. Victorian hair work was her first professional obsession, and its intimate, mysterious, and elaborate nature continues to hold an unwavering fascination.
Emily B. Snedden Yates was the Special Projects Manager at the Mütter Museum. During her time at the Mütter Museum, Snedden Yates focused on the arts and facilitated theater performances such as Josh Hitchens' Frankenstein in 2015 and 2016, and the workshop performance of Mary Tuomanen and Aaron Cromie's Body Lautrec in 2014. She previously curated exhibitions Tracing the Remains and Connective Tissue in the Thomson Gallery of the Mütter Museum.
Morbid Anatomy has been surveying the interstices of art and medicine, death, and culture since 2007. Initially started as a blog by Joanna Ebenstein, developed in conjunction with the exhibition Anatomical Theatre, today Morbid Anatomy is run by Ebenstein with Laetitia Barbier. Barbier has been with Morbid Anatomy since 2010, and served as programming director and head librarian of the recently shuttered Morbid Anatomy Museum. Ebenstein is the editor of Death: A Graveside Companion; author of The Anatomical Venus.