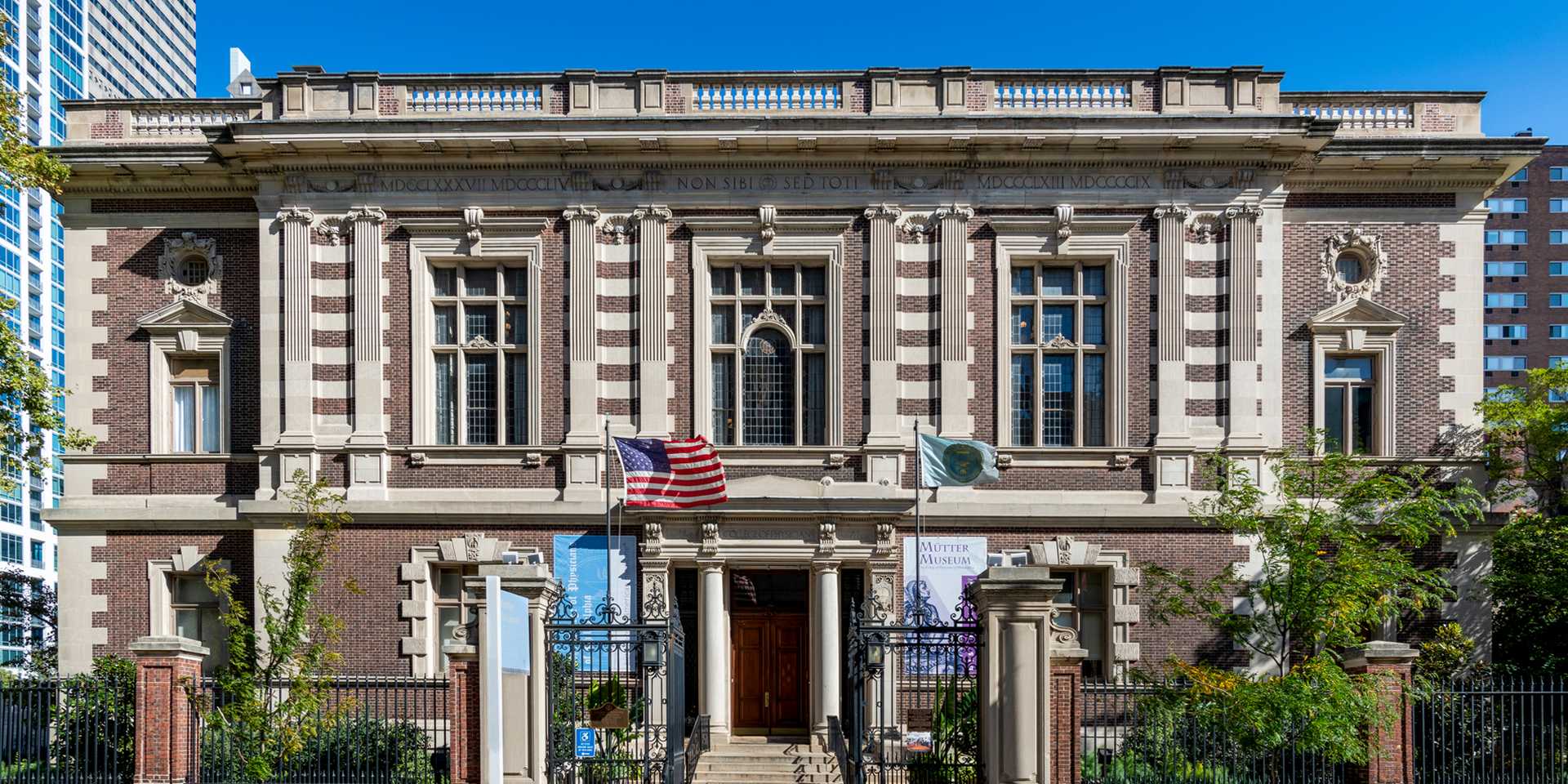 Other Information
Unfortunately, there is not a parking lot associated with the building. Two paid lots are directly next to and behind the building. There is also metered on-street parking on most of the streets surrounding the Museum. There are multiple transit options including on SEPTA, PATCO, and AMTRAK. For more information including driving directions, visit our Directions page.

The Museum has narrow walking space in many areas and strollers and large bags pose a hazard to our 150‐year‐old glass cases and make it difficult for other visitors to enjoy our exhibits. For these reasons, strollers, large bags, and luggage are not permitted in the Museum. Public lockers are available for secured storage during your visit. Lockers can accommodate items up to 12" x 14" x 15". Items too large for the lockers, such as strollers, must be left in our self-serve coat room. Lockers are free but require a quarter to operate. The coin is refunded at end of your use.

There are restrooms located on the first and second floor of the museum. Wheelchair-accessible restrooms are located on the second floor. Please see a Visitor Services Associate for elevator access.

No, the Mütter does not have a cafe and food and drinks are not allowed in the galleries. However, you can pick up our staff favorites food guide at the Front Desk!

*Please note, some establishments may be closed due to COVID-19.

The Mütter is a medical history museum and our collection is comprised primarily of human remains, some displaying genitalia, traumatic injuries, or disfiguring pathologies which may be disturbing to young children. For this reason, we recommend the Museum for children ages 10 and up.

The Mütter's collection includes the remains of real people. Out of respect for the individuals in our collection, no photography or video of any kind is permitted in the museum. However, you may take photos in our lobby area and in our Benjamin Rush Medicinal Plant Garden.

All skeletal and wet specimens in the Museum are preserved parts from real humans. Other items on display include life casts and models made of wax, plaster, or papier maché. You can find answers to other questions about the Museum on our FAQ page.

Firearms, other dangerous or deadly weapons, or explosives, either openly carried or concealed are strictly prohibited. The prohibition of firearms applies to all visitors, including those with firearm permits; only active qualified law enforcement* personnel authorized to carry firearms are accepted.

*Qualified Law Enforcement* This policy excludes Federal and local law enforcement officials, who after displaying their credentials to our Museum team, may carry their firearms in a concealed manner. Local refers to all law enforcement agencies with jurisdiction within the immediate PA area.
Frequently Asked Questions
For more than 150 years, visitors have marveled at our collections. Our goal is to provide the best environment for both our specimens and our visitors. Excessive light and heat can damage a specimen over time. The Museum is working to replace traditional high‐heat halogen light bulbs with safer fiber‐optic lighting systems to reduce damage to our collection. Compared with the traditional halogen light bulbs, the new fiber‐optic light may appear a bit dimmer; however, all the specimens and labels should be properly illuminated. If you see lights out in the Museum, please alert the security guard.

While most of the labels in the Museum have been updated in a larger font, some of the older text and labels remain. This is an ongoing project that we hope to complete in the near future.

The "u" in Mütter has an umlaut. In German, the "ü" is properly pronounced with an "eo" sound. We are just as happy if you pronounce it with a long "oo" sound, like "scooter."

The Museum is named for Thomas Dent Mütter, MD (1811 – 1859), a physician, professor, and Fellow of the College. In 1858 he bequeathed his entire teaching collection of more than 1,700 objects and specimens to the College, along with a substantial endowment. These objects became the core of the Mütter Museum and today we have more than 25,000 objects in the collection.

On some days, access to our 2nd floor area, Thomson Gallery, and Medicinal Herb Garden may be limited due to private events or new installations. Please call 215-560-8564 before your visit to check opening hours and avoid disappointment.